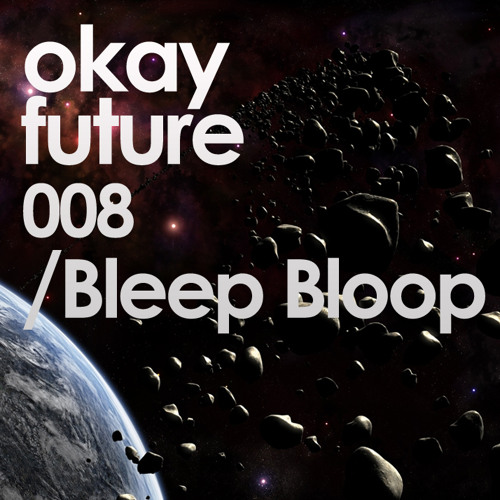 by okayfuture www.Okayfuture.com
@bleep-bloop
@liquidambermusicRead more about this exclusive mix at: http://bit.ly/okfluvsbleep
Some say he's from San Francisco, but he's really from outerspace. Bleep Bloop (a/k/a Aaron Triggs) whose music caught the ear of DJ Shadow, then very quickly became the first signee to the former's new Liquid Amber label and dropped his 10 Watt Lazers EP last month, sends us sounds from the interstellar for this Mixtape Mondays afternoon with his contribution to Okayfuture's exclusive mix series, #008.
This highly creative, heavy bass and grime concoction features some unreleased originals and collabs of Bleep Bloop's own alongside tracks from Eprom, Mr. Oizo, the late, great DJ Rashad, Terror Danjah, Flying Lotus, the late, great Mac Dre and more. A personal favorite on this mix is the "slowed and lowed" version of UGK's "The Game Belongs To Me."
While you nod your head to this mix, you can get to know more about Bleep Bloop from our interview with him (link above), and be sure to catch him at his first appearance at this week's Low End Theory in L.A. on Wednesday, January 14 with fellow artists P.O.S., Okayfuture's own math-nerd guest writer Mike Gao and BLKNZ plus residents Daddy Kev, Nobody, the Gaslamp Killer, D-Styles and Nocando.
Bleep Bloop's Okayfuture Mix 008 Tracklist:
Bleep Bloop – A Rough Landing
G Jones & Bleep Bloop – Untitled
Eprom – Samurai
NastyNasty – Sweaty Bodies
UGK – The Game Belongs to Me (Slowed and Lowed by Bleep Bloop) Bleep Bloop – Midichlorian
Flying Lotus – Ready Err Not (Slowed and Lowed by Bleep Bloop) Logos – Seawolf
Kaiju – Hunter ft Flowdan
Mumdance – Take Time ft Novelist
Doshy & Bleep Bloop – WTF
Mystic Cat – ???? X Crime Mob – Nuck if You Buck
Lady Leshurr – SHURRAQ
Terror Danjah – Green Street
Royal T – Music Please (Devil's Mix)
Mac Dre – California Bear
Dubee – I Spit that Mob
Big Lurch – I Can Do This
Mr. Oizo – Bad Start
DJ Rashad – I Don't Give A Fuck
Bleep Bloop – War Dub
6BLOCC – War in the Jungle http://soundcloud.com/okayfuture/okayfuture-mix-008-bleep-bloop